Quality Frames for Every Lifestyle
When you visit us to explore our optical boutique to find your new glasses, you get more than gorgeous frames that suit your style—you also meet our enthusiastic, passionate optical team.
We pride ourselves on offering our patients high-quality products and designer brands carefully selected by our expert team with care and attention to detail.
Your new favourite glasses are just a visit away. Come see our team at Central Optometry today and explore the wide range of frames and lenses we have to offer.

Complimentary Frame Consultations
Our team of trained opticians and optometric assistants would love to help you find the perfect frames for your new look.
Not only can our team of friendly experts help you decide which frames suit your style and personality, but they can also explain the benefits offered by each lens style and brand and help you select lenses that match your lifestyle.


Style & Comfort with Our Lens Selector
We know that choosing the right lens is important but can be overwhelming at times. For some extra help, check out our lens selector below to help simplify the process.
The NeuroLens Difference
NeuroLens is an innovative glasses design that brings relief to those suffering from digital eye strain and its associated symptoms. By incorporating a contoured prism into prescription lenses, NeuroLens addresses the root cause of these discomforts and helps improve your overall visual experience.
Are you one of the many individuals who experience the painful symptoms of eye misalignment, such as headaches, neck/shoulder pain, and eyestrain? If so, NeuroLens could be the solution you've been searching for.
Ask our team about NeuroLens and discover if it can help you.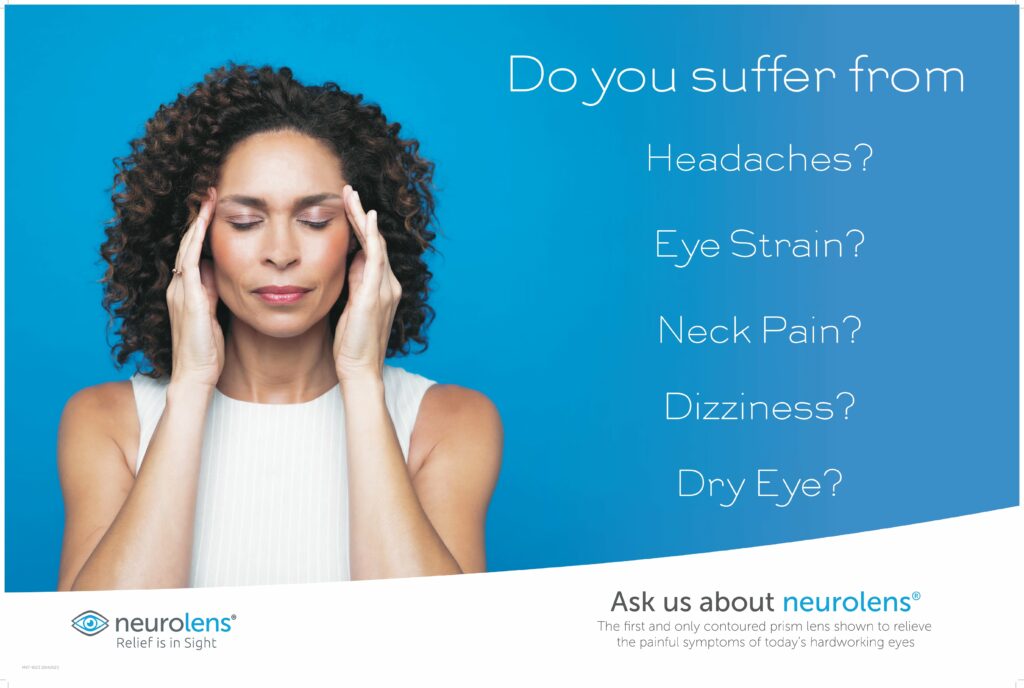 How Neurolens Can Help
Neurolens features a contoured prism design customized for your unique eye position. The prism correction offered by Neurolens helps bend light before it reaches your eye, redirecting it to the correct position.
Neurolens can also help address symptoms such as:
Motion sickness
Dry eye
Eye strain or eye fatigue
Headaches or neck pain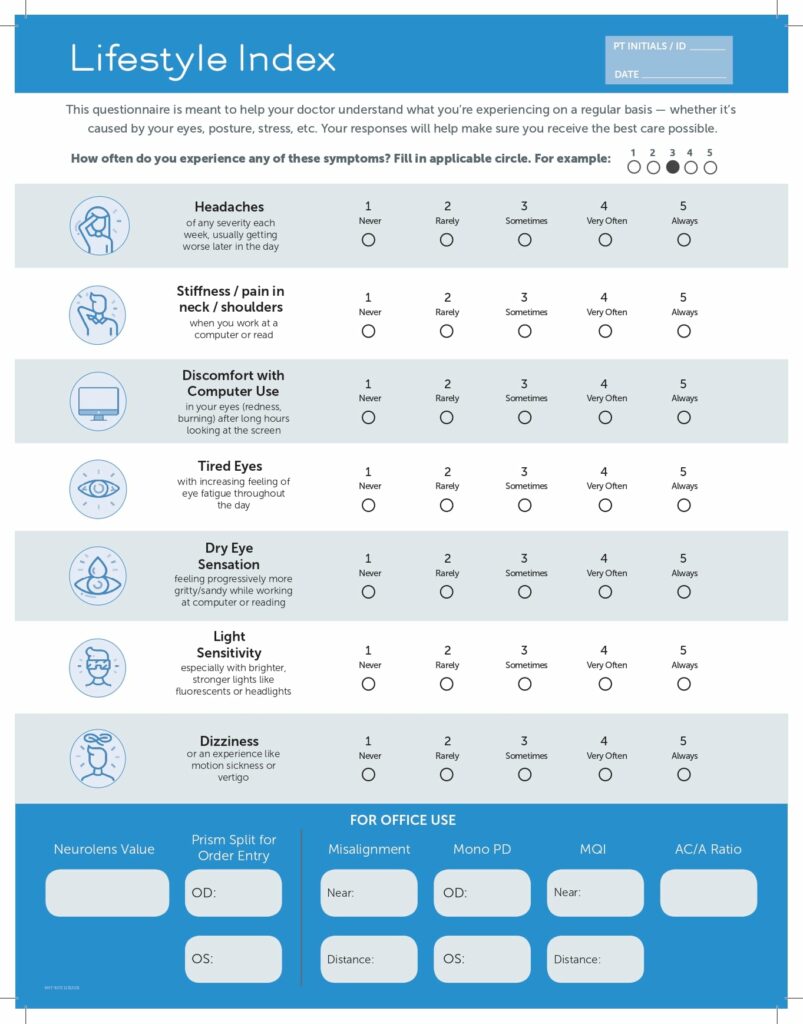 ZEISS MyoCare Lenses
ZEISS MyoCare lenses are designed to help manage myopia progression. Developed with over a decade of experience and backed by ZEISS's commitment to innovation, MyoCare lenses are designed to provide effective myopia management for children.
These lenses aim to slow down the advancement of myopia while ensuring optimal comfort and wearability. Clinically proven to slow down myopia progression in young children, MyoCare lenses provide excellent vision correction with their novel lens design.
Ask our team about ZEISS MyoCare lenses today to learn more.